1ST PLACE 2017 ANNUAL DEPARTMENT-WIDE DESIGN CHARRETTE
Brianna Langman, Johnston Roberts, Katherine Long, Katelynn Varhalla
The goal of this program wide, 5-day design charrette is to create a correctional and rehabilitation facility for four Marvel super villains: Black Widow, Callisto, Joystick, and Lady Mastermind. The design should outline the process of rehabilitation for the super villains to one day be reintroduced as an asset to society and should provide a back story for how they will be captured. It is important to consider each of the super villains unique abilities, skills, and talents in order to create a successful design solution.
The correctional facility for the Marvel Supervillains will be based on the theory of Absolute Zero, which pertains to reaching the lowest temperature theoretically possible (-459.67 degrees F). This will be translated into the method of rehabilitation in order for the patients' unique, super-human identities to be redirected as an asset to society. The components of the facility will be encased within the shell of an iceberg. The ascending levels of the facility will provide an orderly structure for the phases of rehabilitation: Cryotherapy, Super fluidity, and Equilibrium. This process will combine their existing genealogy and the provided environment to allow the patients to reach a state of equilibrium.
PHASES OF REHABILITATION:
Phase I: Cryotherapy
The patients will undergo a series of mental and physical evaluation while in the cryotherapy phase. Upon arrival to the CDH13 facility, the patients will be submersed in liquid cooled to sub-zero temperatures. Extreme cold stimulates skin sensors, activating a Central Nervous System response. This causes the release of endorphins, the body's natural pain inhibitors and mood elevators, while the enhanced circulation activity (blood movement into and out of the core) increases brain activity with a supply of oxygen and nutrient enriched blood to stimulate cellular regeneration (faster healing). The purpose of the Cryotherapy phase is to access the patients' innermost memories and core identities. The treatment decelerates the patients' powerful abilities and transcends them into a dormant state, allowing neurospecialists to retrieve the data necessary for a full mental and physical evaluation.
Phase II: Super Fluidity
Super fluidity can be achieved through the thermodynamic theory of absolute zero (-459.67° f). When liquid reaches absolute zero, it reaches a superfluid state in which matter displays odd quantum effects, such as climbing up the walls of a glass tube. In a similar fashion, the patients will "climb" the levels of the facility through each phase in order to reach their equilibrium state. The liquid in the depressurized Cryotherapy capsules chills the patients down to a "superfluid" state, allowing technicians to essentially reprogram their psyche in order to utilize their superhuman capabilities as an asset to society.
Phase III: Equilibrium
The contributing factors of the patients' existing genealogy and their provided environment must be in balance to achieve equilibrium. The first phase of treatment addresses their genetic and psychological makeup, including the CDH13 gene, which is linked to aggressive behavior. The second phase of treatment requires the patients to go through extensive physical therapy in order to perfect their superhuman abilities. These factors which once contributed to their supervillain agendas will be redirected and used for the greater good of mankind.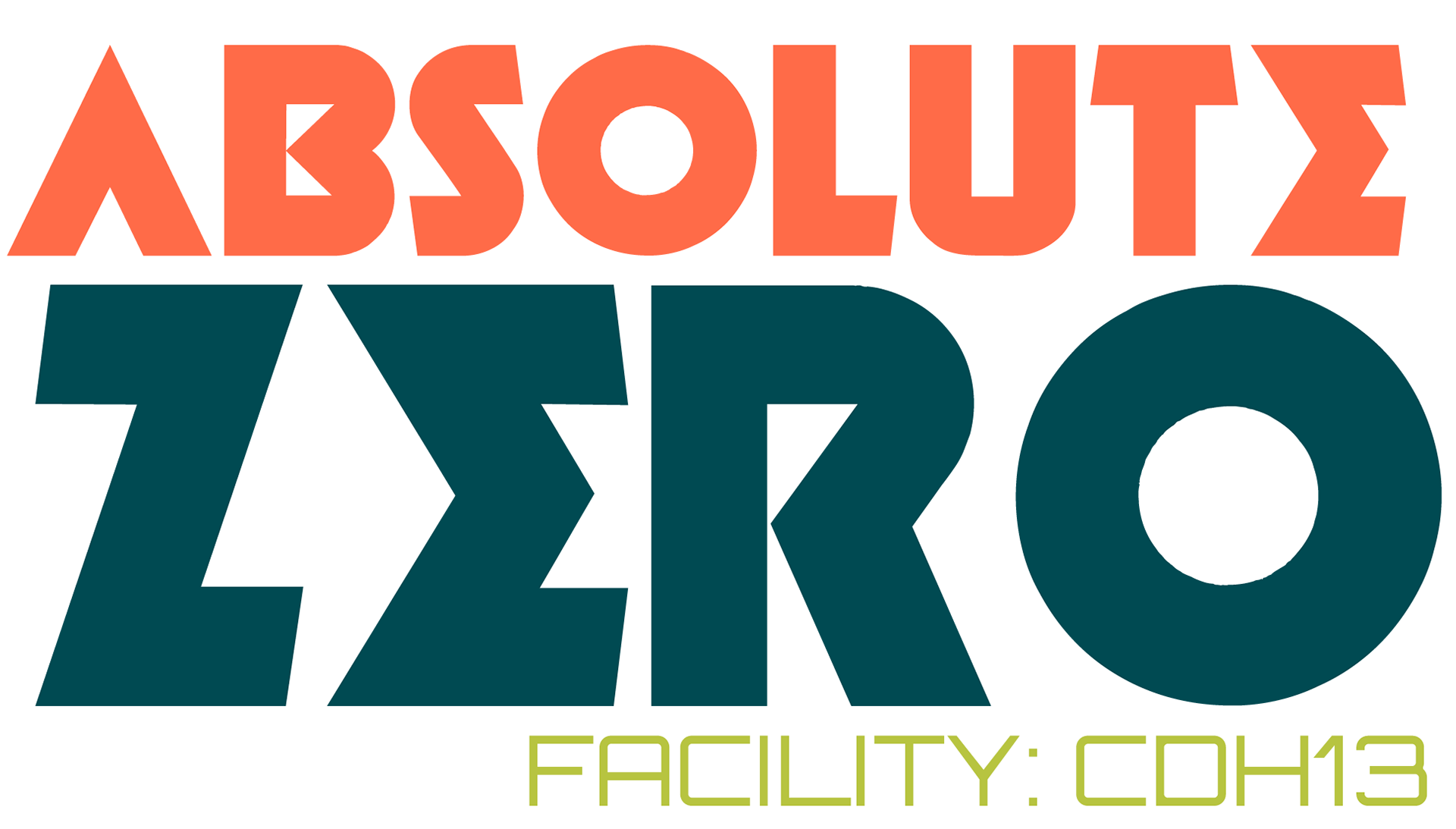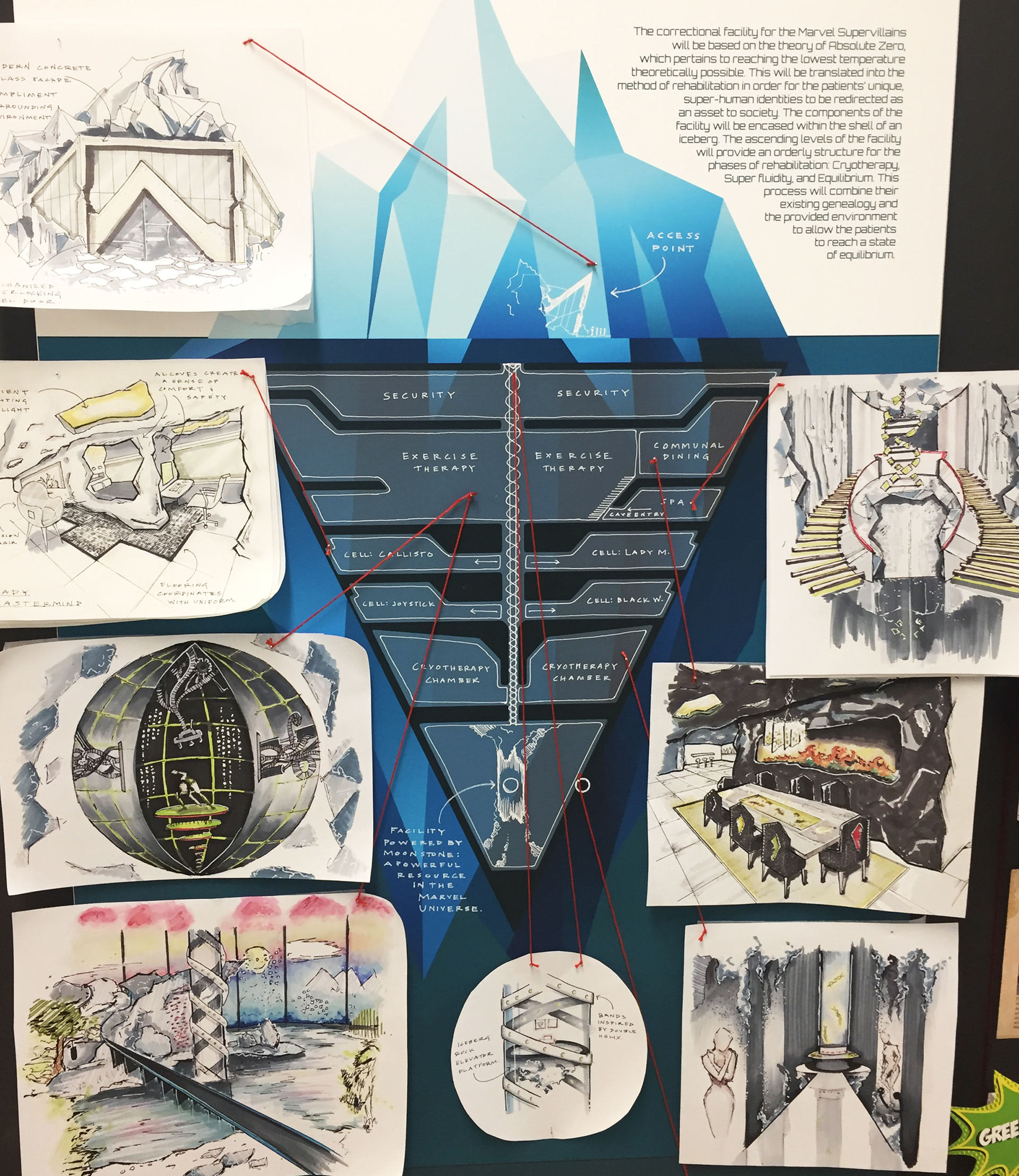 The entry of CDH13 facility is protected by a force field, masking its visibility from potential intruders.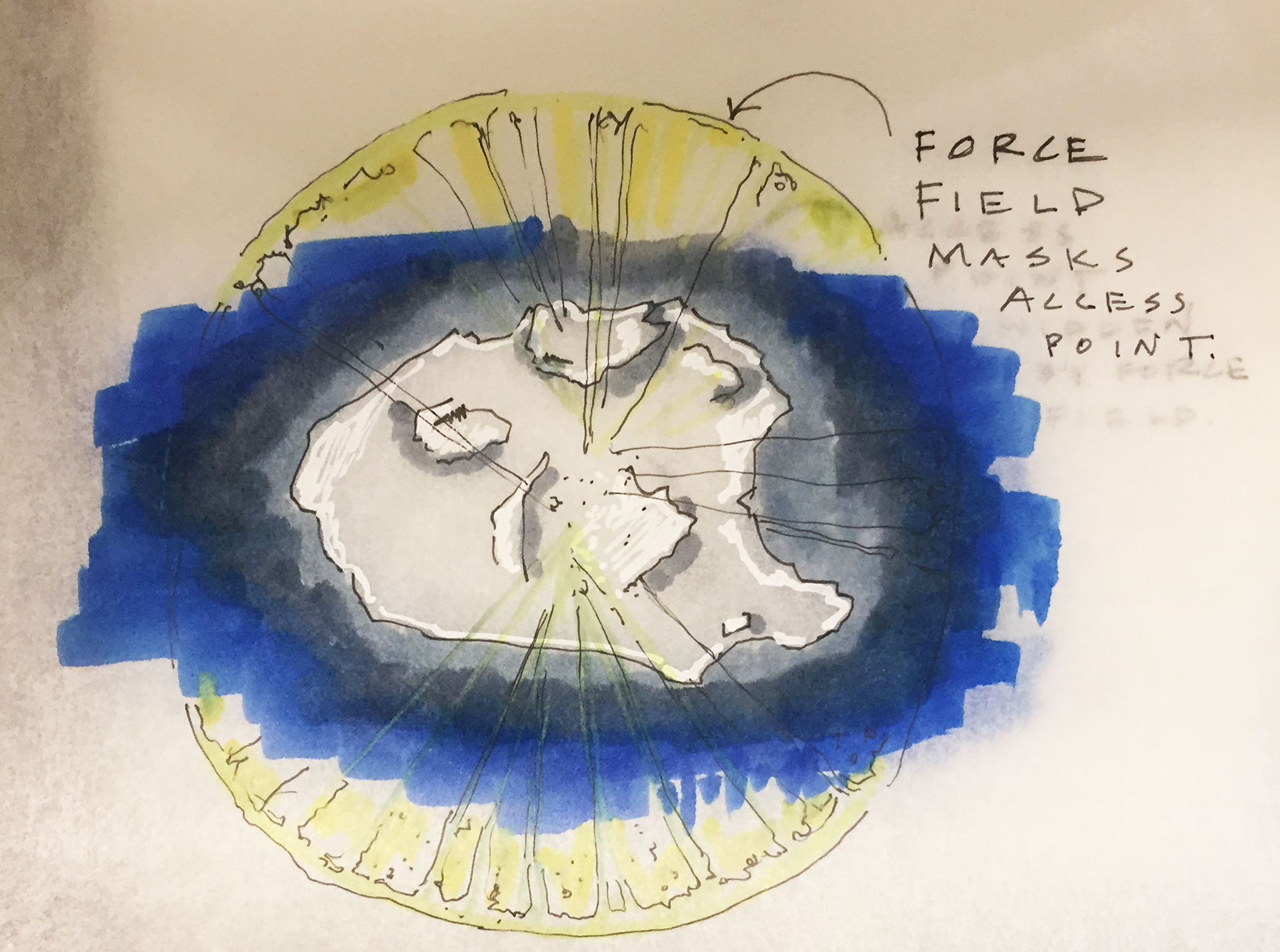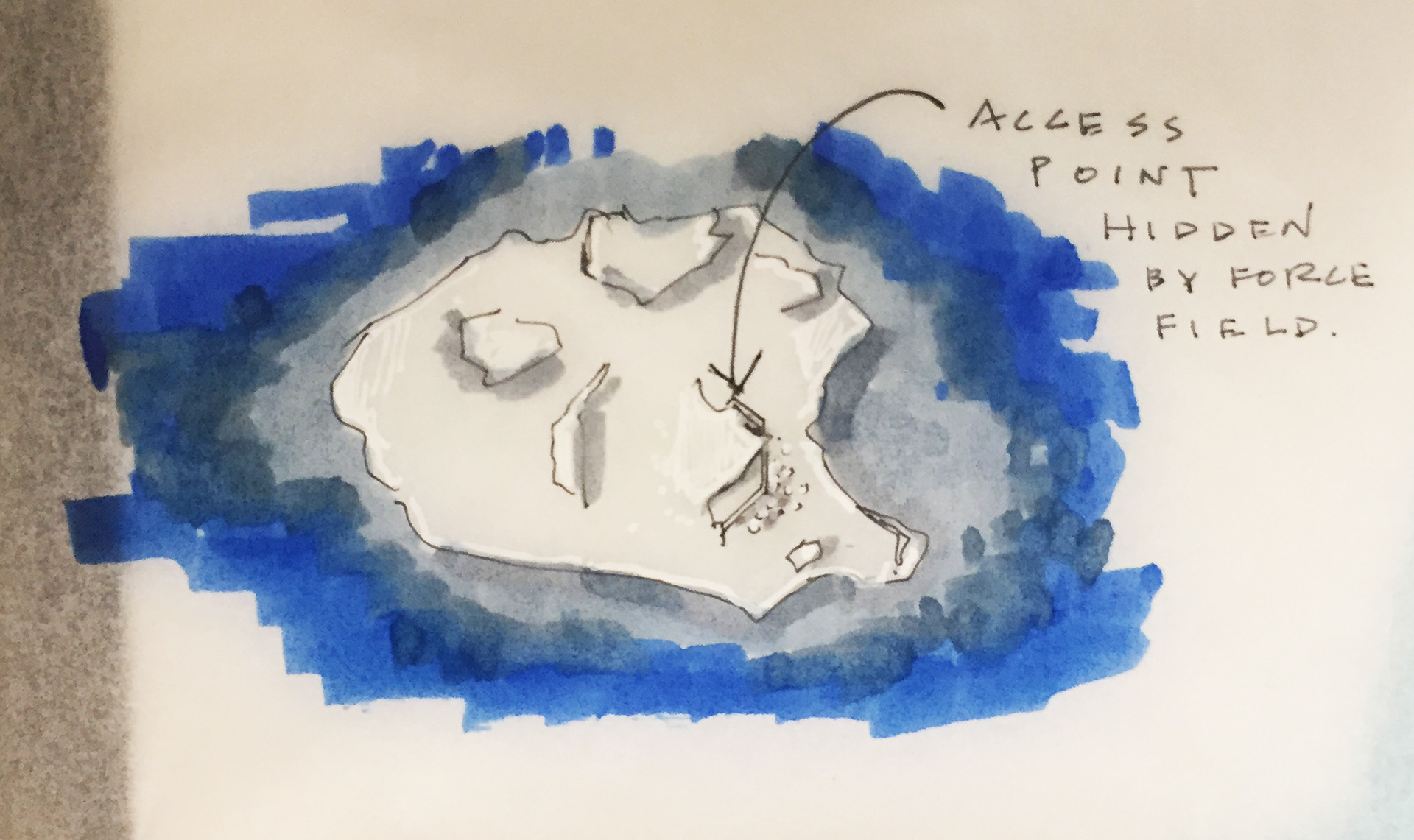 A private space for each of the four super villains provides a place of refuge while maintaining their individual identities.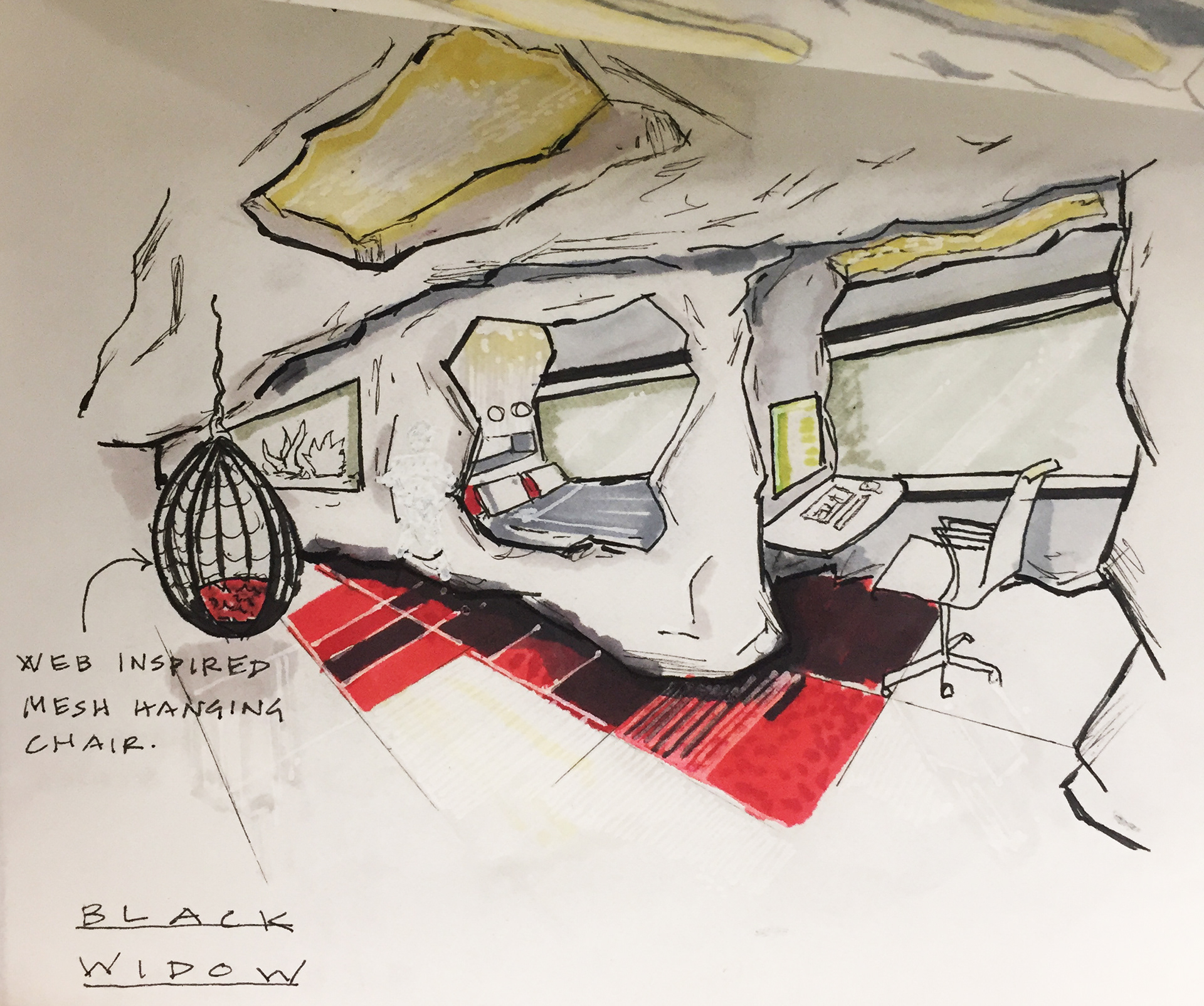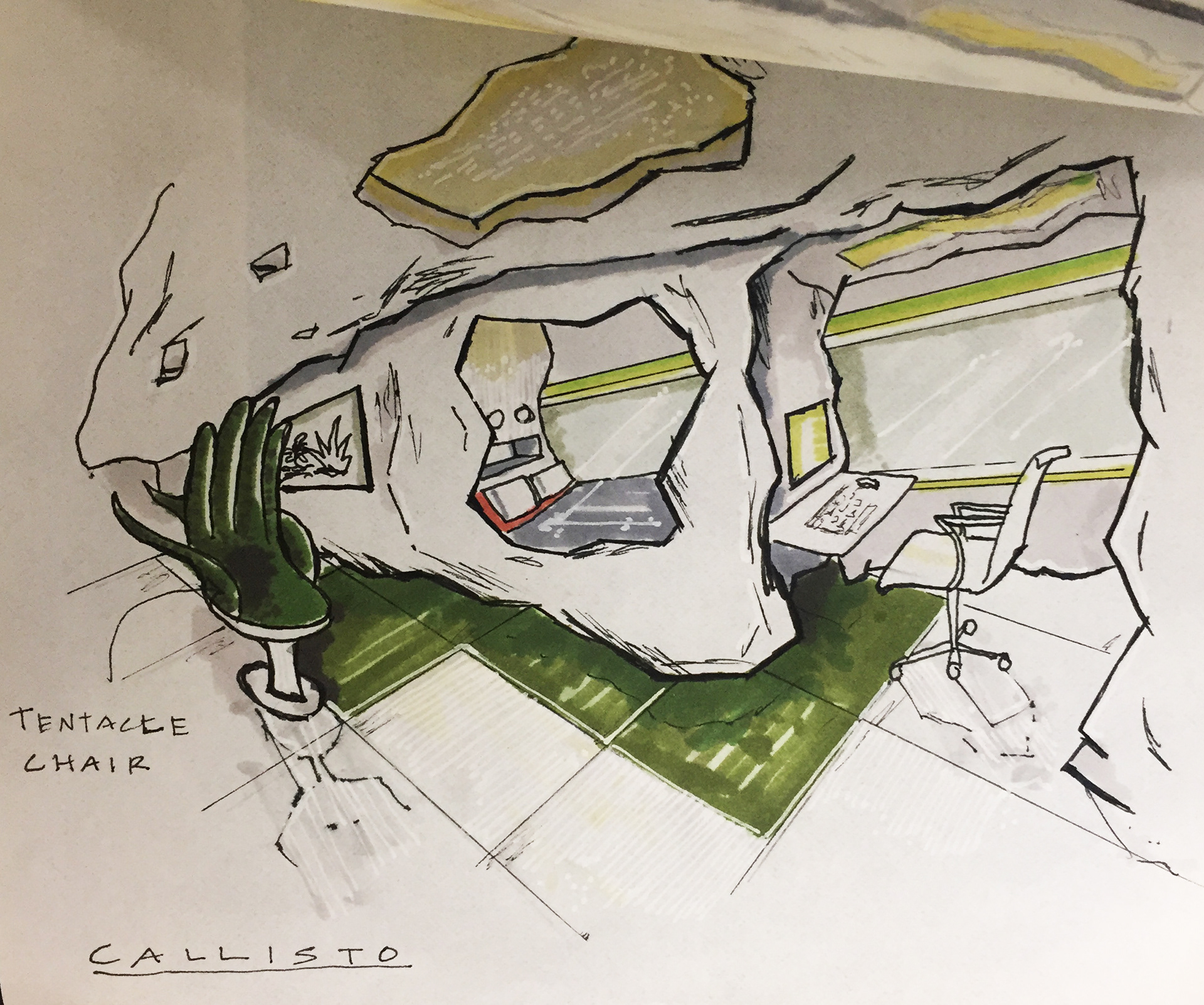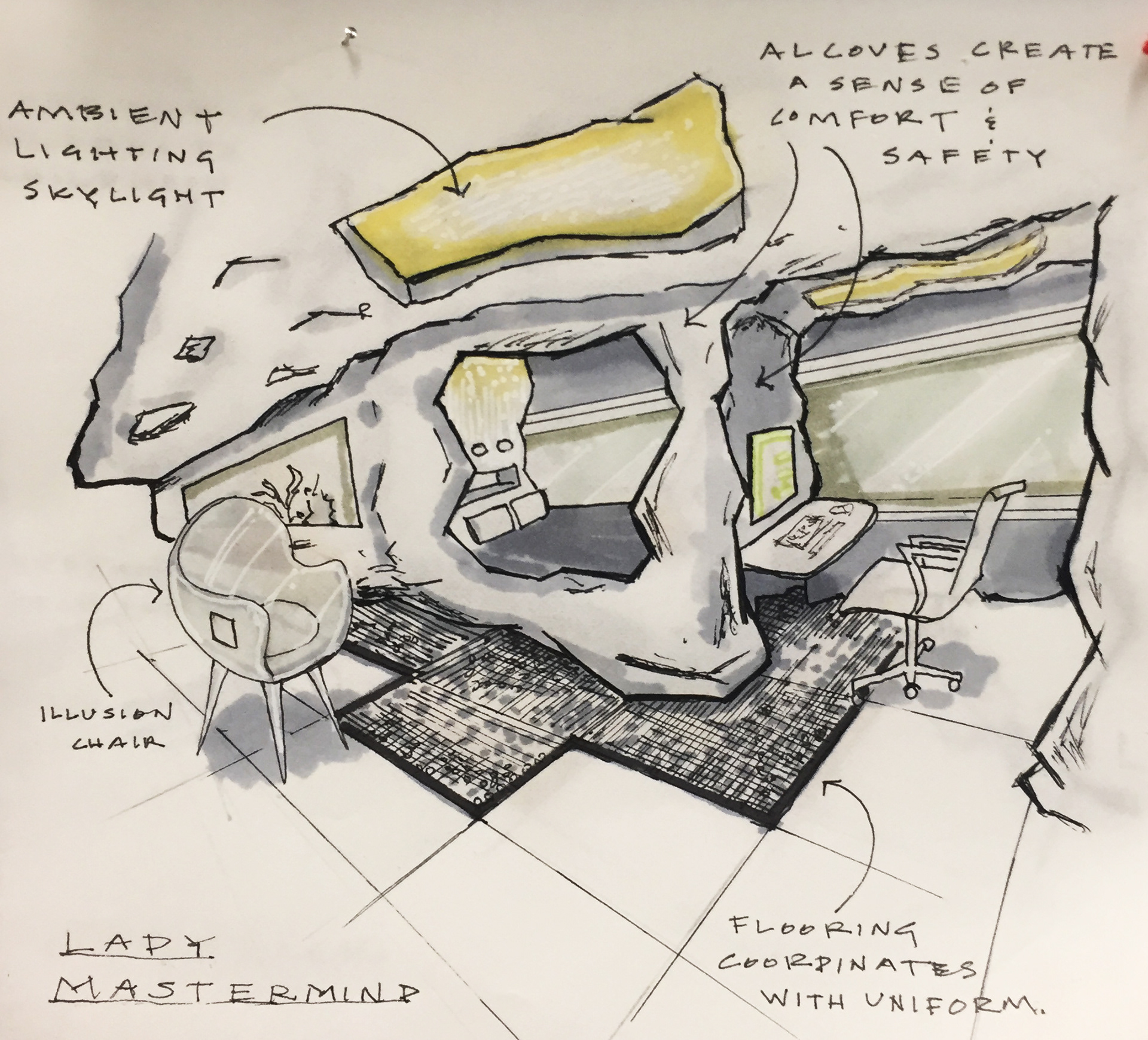 VIRTUAL REALITY ACTIVITY SIMULATOR:
Offers limitless opportunities for patients to exercise and perfect their abilities. Simulator is located in a cave to provide total darkness, optimizing the projection of imagery within the sphere while creating a focused environment free from distractions.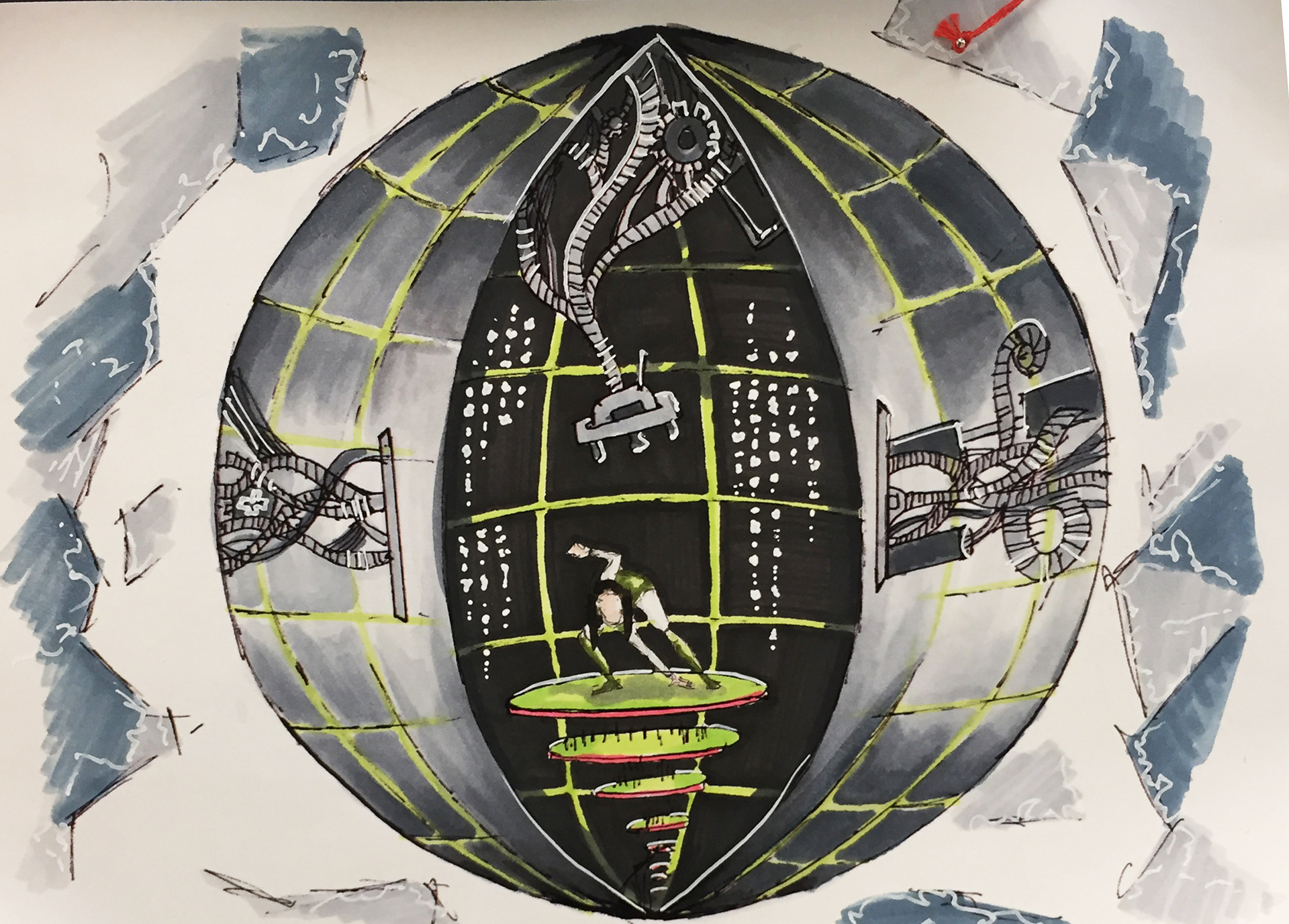 Digital wall projections display restorative, scenic imagery while vibrant colors stimulate activity. Several unique spaces allow patients to exercise their own specific skill set.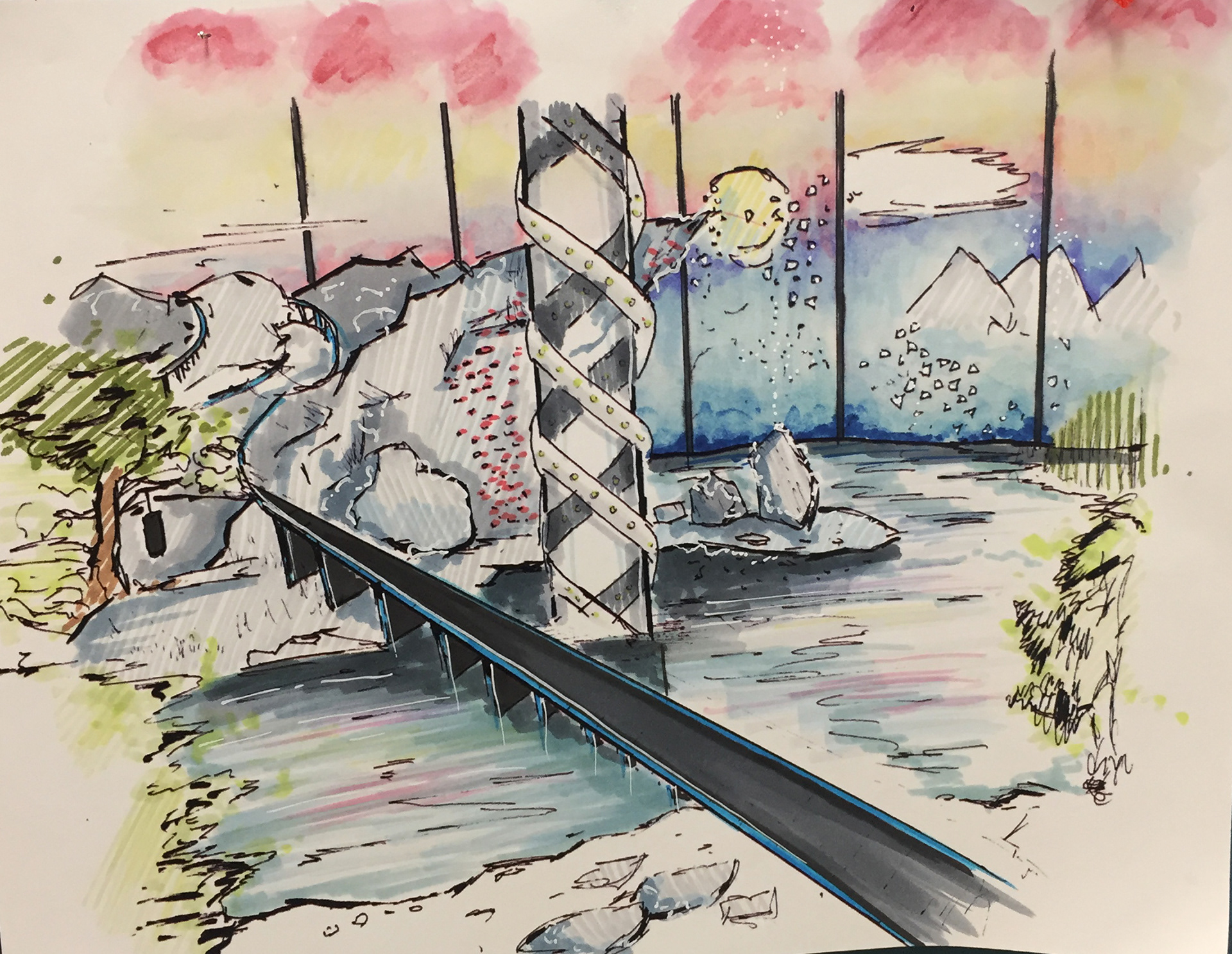 ENTRY TO BATH & STAIRS TO DINING AREA: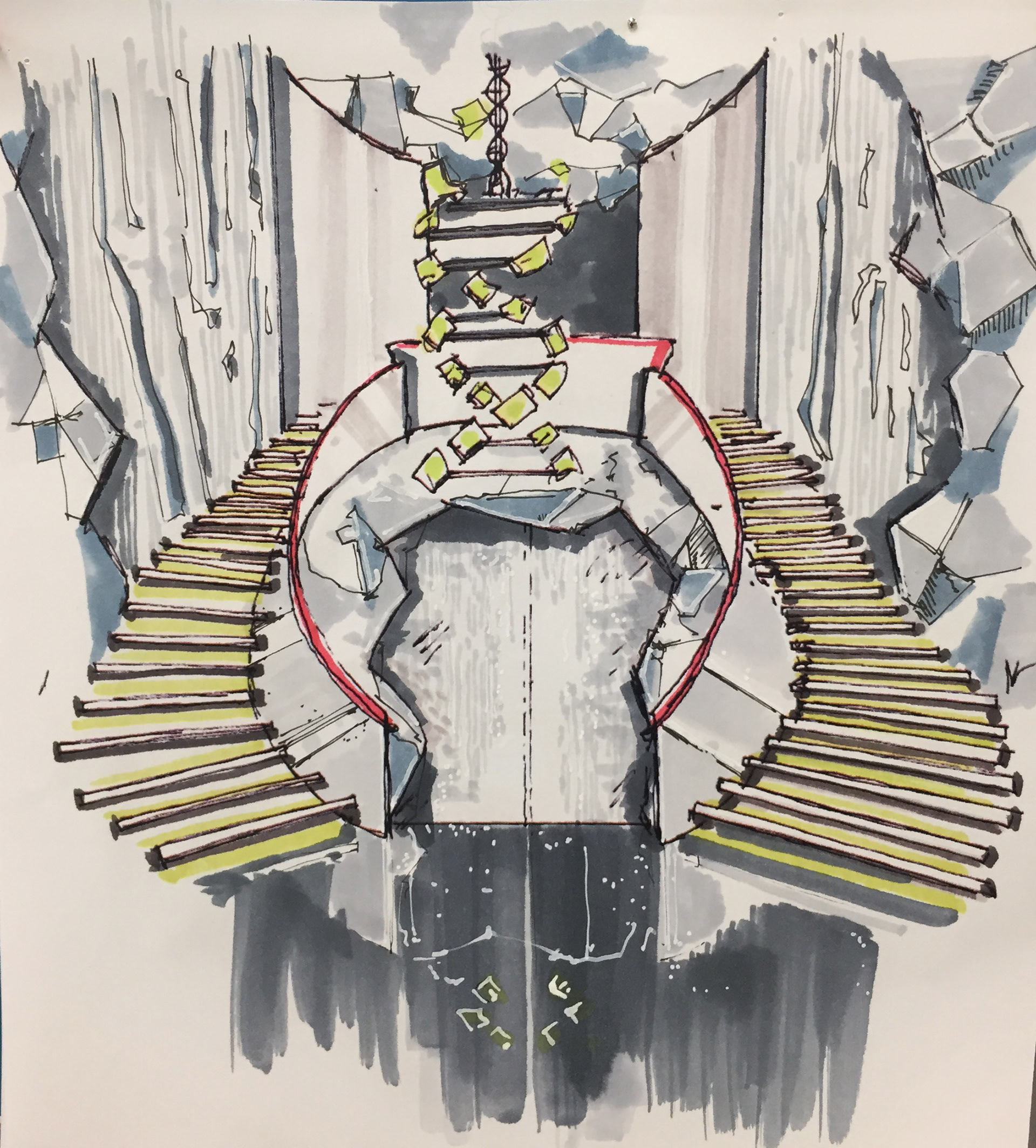 Cool colors offer a calming atmosphere for patients to relax between rigorous training and therapy sessions.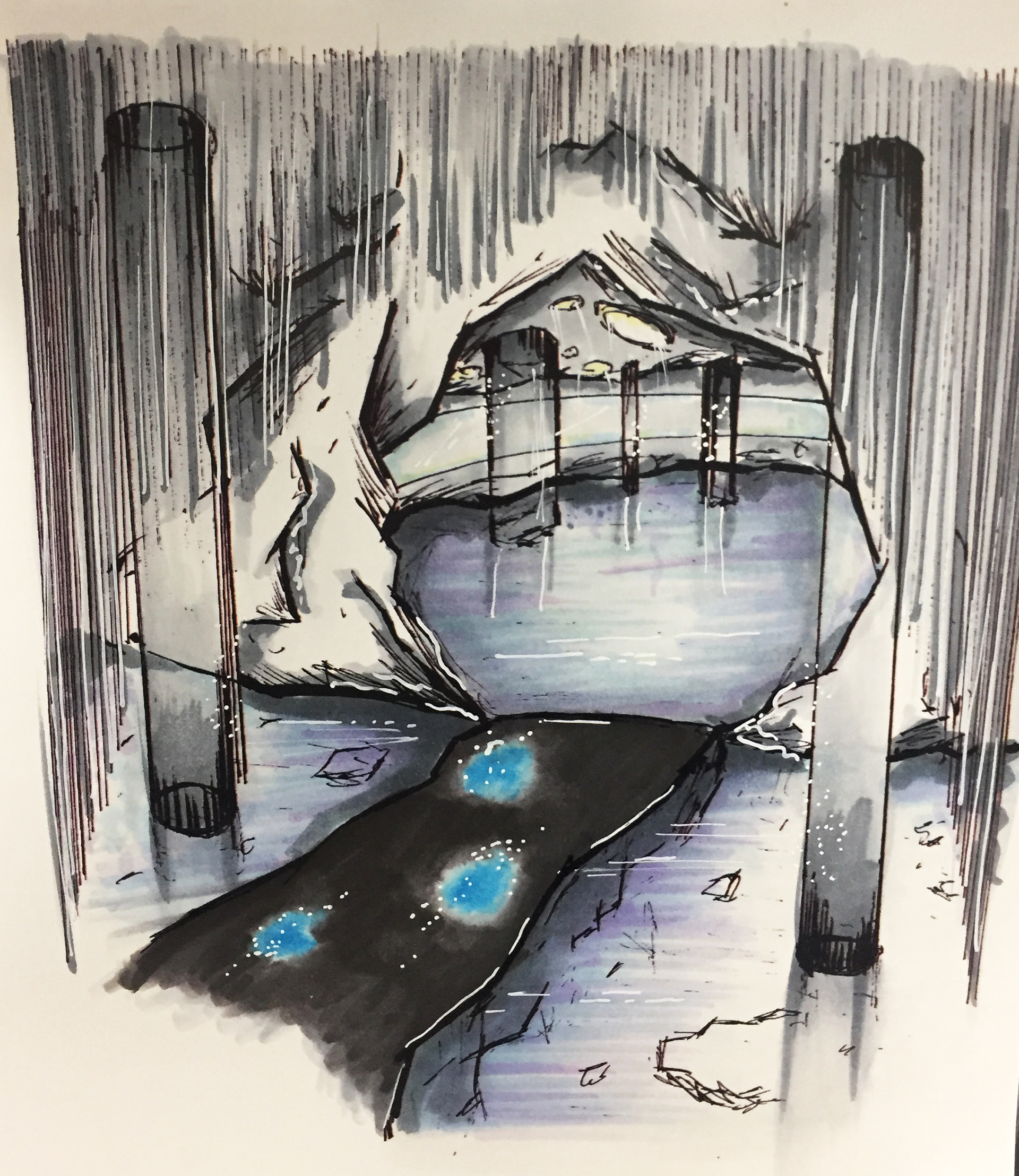 Communal table promotes pro-social behavior and fireplace provides a warm contrast against sculptural ice wall. Marked chairs preserve patients' identities and sense of place.
MAXIMUM SECURITY CRYOTHERAPY CHAMBER:
Cryotherapy is performed in impenetrable glass capsules allowing neurospecialists to access  patients' genetic makeup and inner psyche. Sleek finishes contrast rugged ice formations to reflect the deepest level of therapy and structure.